Dark Chocolate Almond Shortbread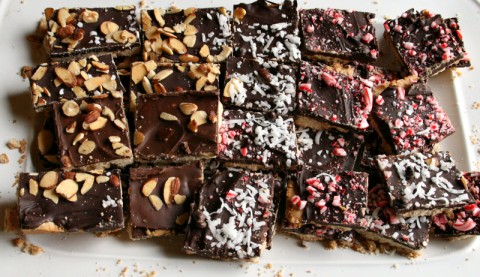 This has the been the season of cookie exchanges. I attended three this season which means I baked over 21 dozen cookies just for these events. But it was so much fun! The best part wasn't the cookies, but the people I got to share one with. I felt very blessed to celebrate the holiday's with my fellow foodies!
These Ginger Lime Crinkle cookies were so good and if you look right behind them I made those pretty Speculoos cookies that are lined with red sprinkles and topped with a vanilla buttercream.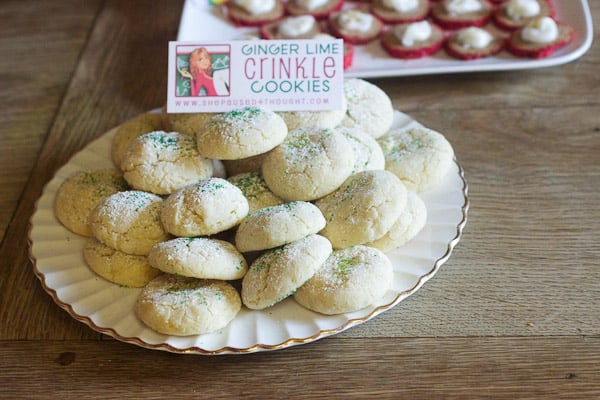 The first stop was the December gathering of LA Food Bloggers.This is what we do when we gather – take photos and eat!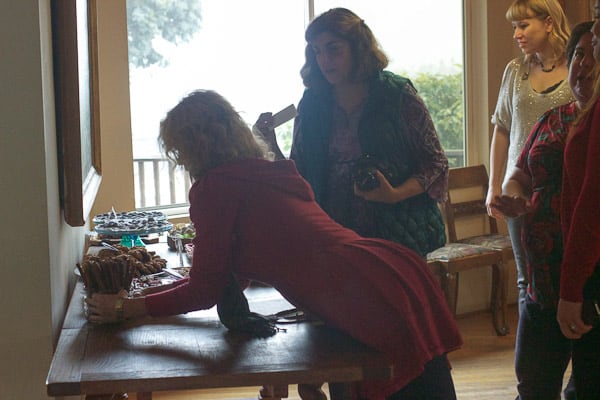 It was a banquet of holiday cookies and cookbook exchange. I had the opportunity to meet more of the amazing bloggers we have in Southern California. You can see a collection of all the cookie recipes over at Shockingly Delicious.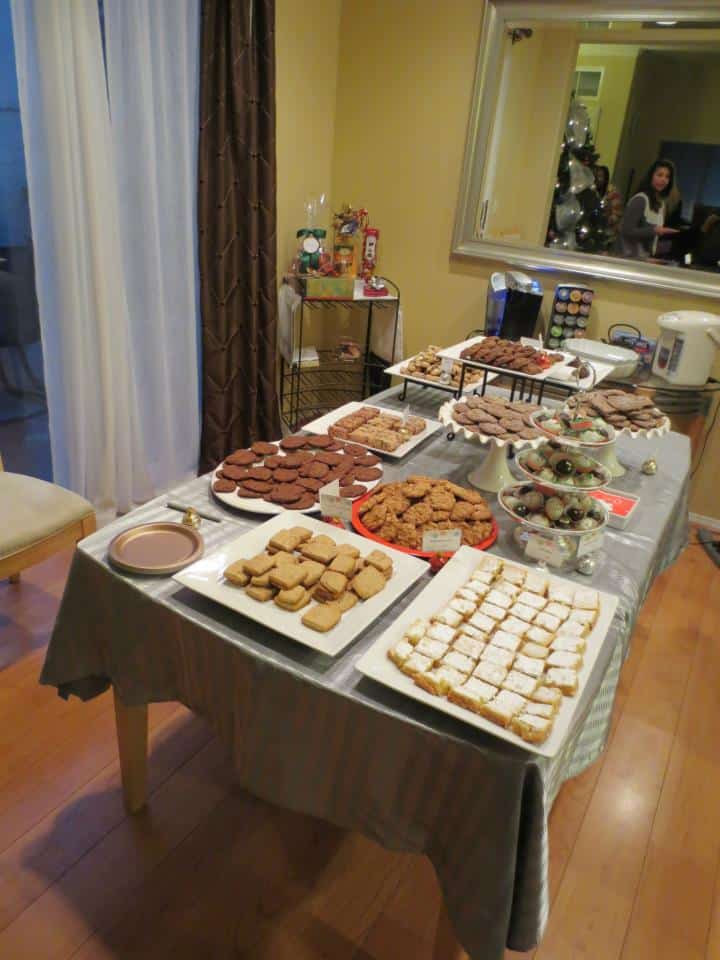 The next was at Quyen's house aka Kitchen Runway where we exchanged cookies and met new friends.Her adorable dog Taylor stole the show.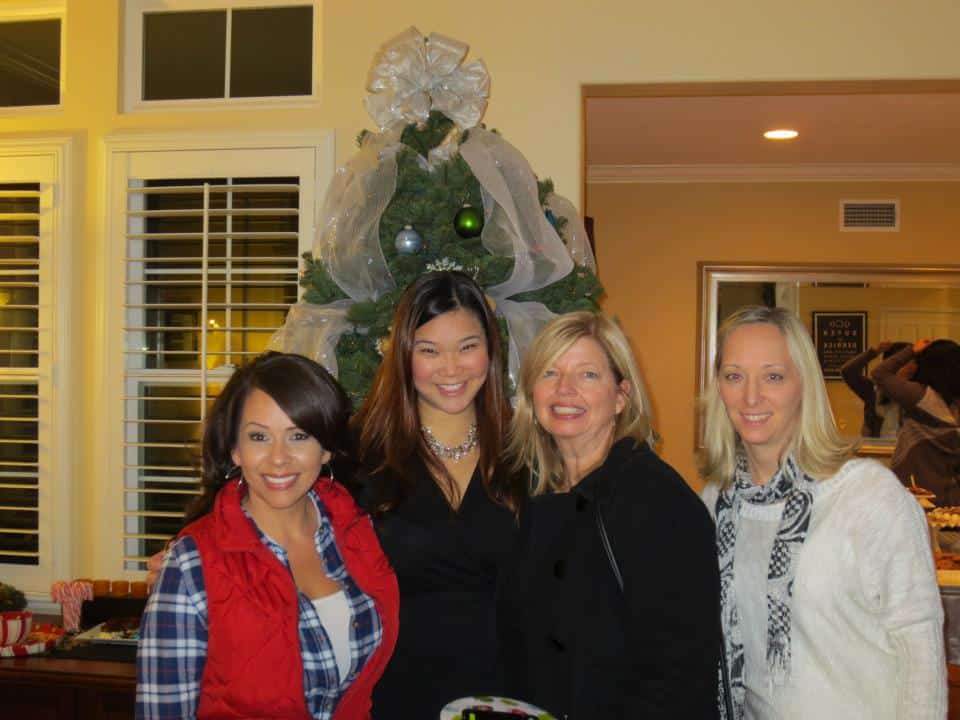 I got to hang out with my OC blog buddies Quyen and Louise, along with my new friend Sarah.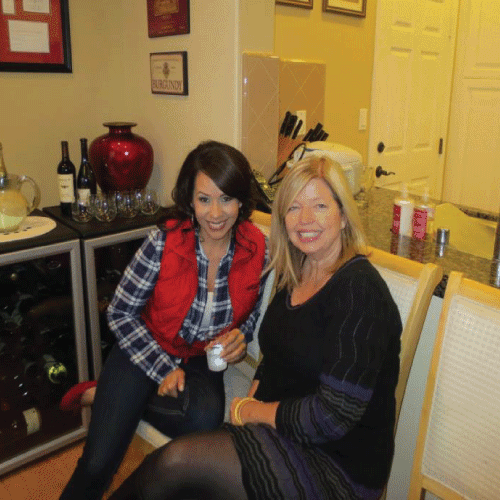 Geez Louise's evil Butterscotch Popcorn was a big hit! It is super addictive. Everyone kept going back to sneak one more bite!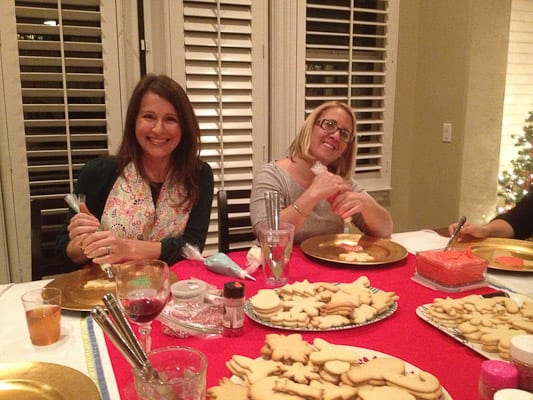 Finally, it was my sister-in-law Joy's, annual Cookie Decorating party where we share a meal before decorating the best sugar cookie's ever! She and Deanna have hosted this for years and I was lucky enough to start attending a few years ago. We get to catch up once a year and share a love of cookie decorating.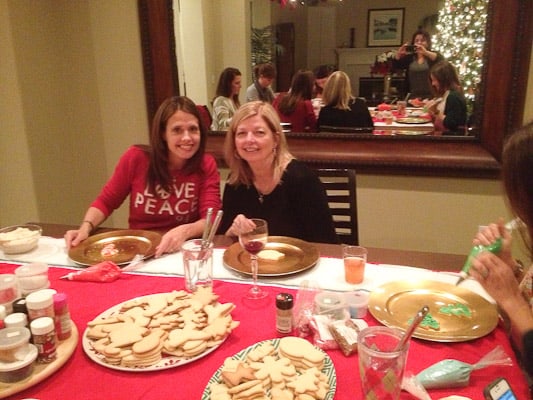 It is always so much fun and therapeutic too!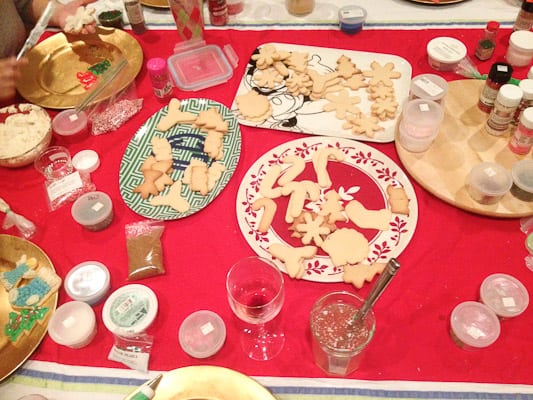 These are hands down the best sugar cookies I have ever had. They are Deanna's great aunt's recipe. She was a home ec teacher and the recipe has been passed down. Decorating isn't my specialty but we have fun. Here is what my plate looked like at the end of the evening.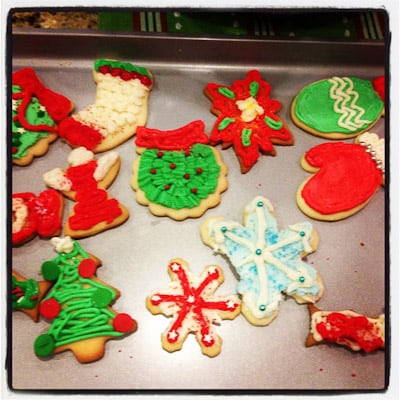 For the first and last exchange I made my new favorite cookie, Dark Chocolate Almond Shortbread. It is a little sweet and salty with a crunchy almond topping. You can also top with peppermints or toffee bits. Be creative!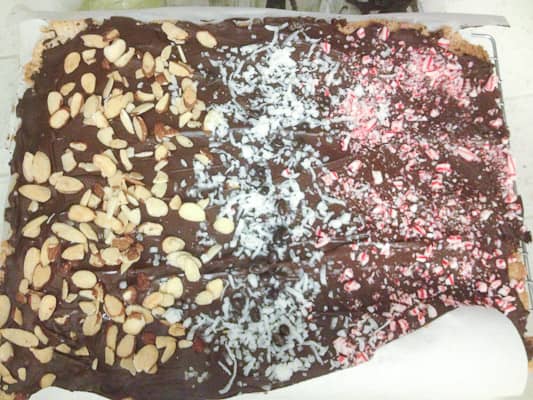 You start with a shortbread bar and top with chocolate chips and then your favorite toppings. My favorite this year dark chocolate chips, Trader Joe Honey Almonds and sea salt. It is the perfect blend of sweet and salty.
So, what about you? What is your favorite cookie this season? Share below in the comments. If you have a picture share it on the Adventures In The Kitchen facebook page.
Don't forget to visit the launch of Feed Your Soul Friday's and enter to win a Lisa Leonard Necklace and Treasure of Love Cookbook.
Dark Chocolate Almond Shortbread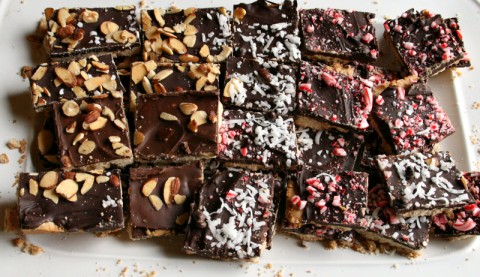 Ingredients
1 cup butter, room temperature,
1/2 cup dark brown sugar
1/4 cup sugar
1/2 teaspoon sea salt
2 teaspoons vanilla extract
1 3/4 cups all-purpose flour
6 ounces semisweet or bittersweet chocolate or high-quality milk chocolate, finely chopped
1-1 1/2 cups Trader Joe's Honey Almonds or other toasted nuts
1/2 teaspoon coarse salt
Instructions
Arrange a rack in middle of oven; preheat to 375°. Line the bottom and sides of a 13x9x2 inches metal or glass baking dish with parchment paper, allowing 2 inches overhang on either side; butter or spray parchment paper.
Using an electric mixer at medium speed, beat 1 cup butter in a large bowl until smooth, about 3 minutes. Add both sugars and salt; continue to beat until mixture is light and creamy, about 3 minutes longer. Beat in vanilla, then slowly mix in flour, beating until entirely incorporated.
Scrape dough into prepared dish. Using your fingertips, spread into a thin, even layer.
Bake until the base is golden brown and has begun to puff and crack, about 22 minutes. Remove from oven and immediately scatter chopped chocolate evenly over cookie base and bake just until chocolate is soft and has begun to melt, about 2 minutes. Immediately spread chocolate in an even layer over base.
Scatter almonds over warm chocolate; lightly but firmly press into chocolate. Sprinkle with salt. Let cool in dish on a wire rack for 15 minutes. Using foil overhang, lift cookie from dish. Place on rack; let cool until chocolate is set, about 2 hours.
Carefully remove parchment paper from cookie and slide onto a cutting board. Cut into bars. Store in an airtight container.
Nutrition Information:
Serving Size:
1 grams
Amount Per Serving:
Unsaturated Fat:

0g