All of our Team Building Cooking Class Menus feature seasonal fresh ingredients. Here is a sample of our Summer Menus to select from.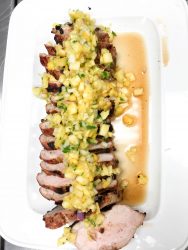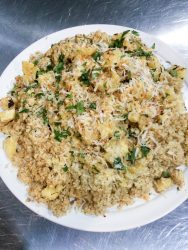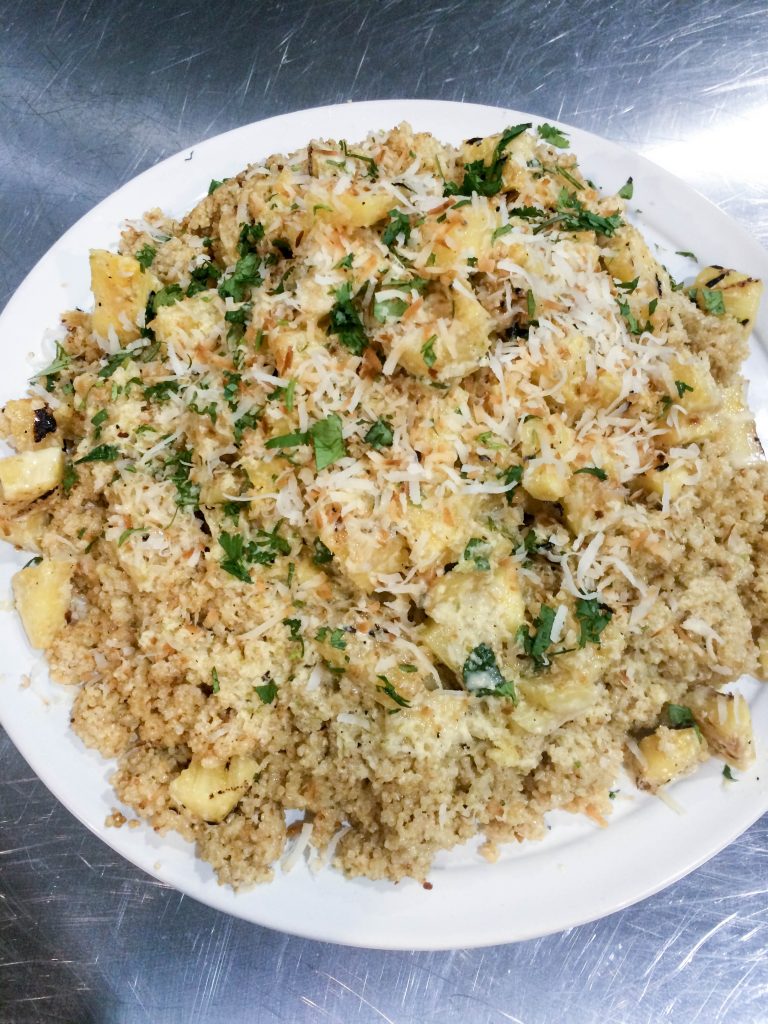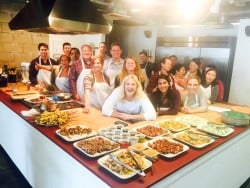 Select From Our Team Building Cooking Class Menus:
Spring Tapas Cocktail Party (Sample Menu)
Lemon Thyme Popcorn
Edamame with Lemon Miso Dip
Grilled Caprese Skewers
Grilled Korean Beef Lettuce Wraps
Pineapple Teriyaki Chicken Wraps
Grilled Fruit Bruschetta with Honey Mascarpone
Mini Smore's Tarts
Flavors of Fall
Roasted Apples with Artisan Salad and Warm Bacon Maple Vinaigrette
Apple Bourbon Cider Chicken
Potato, Apple & Gruyere Potatoes
Parmesan Roasted Broccoli and Cauliflower
Apple Walnut Cake
Whiskey A Go Go!
Grilled Kale Salad with Apples & Bacon
Grilled Steak with Whiskey Sauce
Tipsy Sweet Potatoes with Maple
Roasted Brussels Sprouts with Pancetta & Shallots
Pear Berry Cobbler with Brown Butter Whiskey Sauce or Chocolate Chip Pie with Warm Bourbon Sauce
SUMMER IN PROVENCE
Tomato and Goat Cheese Tartlet with Petite Salad
Fish En Papiollete( in parchment) with  Pesto Vinaigrette
Summer Vegetable Ratatouille
Herbed Roasted Fingerling Potatoes
Peach Brown Butter Cake
ITALIANO
Grilled Panzanella OR
Basil Pesto Farro Salad
Asparagus Tart with Creamy Ricotta
Limoncello Cream Spaghetti OR Summer Risotto
Charred Lemon Piccatta OR Flank Steak with Spicy Basil Vinaigrette
Mixed Berry Tiramisu
Summer House Dinner
Tomato Stacks with Corn and Avocado
Grilled Steak with Chipotle Mango Sauce
Hasselback Potaoes with Browned Butter
Green Beans with Almonds
Italian Dinner Party Menu
Watermelon, Tomato & Arugula Salad with Balsamic Vinaigrette
Charred Lemon Piccata Chicken or Chicken Breasts stuffed with Goat Cheese and Sun Dried Tomatoes
Risotto with Fresh Herbs  or Fettuccine with Tomatoes, Corn & Basil
Zucchini, Squash, Tomato Saute with Parmesan
Lemon Pudding Cakes
Spanish Steak Dinner Menu $5 per person additional
Orange, Fennel, Red Onion Salad with Mint &  Orange Balsamic Vinaigrette
Italian Rolled Flank Steak with Homemade Salsa & Grilled Green Onions
Patatas Bravos – Spanish Potatoes
Spanish style Roasted Vegetables with Breadcrumb Picada
Mexican Chocolate Souffles with Cinnamon Whipped Cream
Modern Mexicana
Appetizer: Charred Mexican Bruchetta
Mexican Chopped Salad with Jalapeño Dressing
Blackened Fish Taco's with Pineapple Mango Salsa  OR
Seared Chicken with Cilantro Chimichurri
Vegetarian Option: Butternut Squash Tacos or Spiced Potato Tacos
Coconut Lime Rice or Coconut Lime Quinoa with Grilled Pineapples
Crispy Sweet Potatoes
Homemade Mexican Crema
Mexican Hot Cocoa Brownie Sundaes
Taste For Tequila
Jicama and Belgian Endive Salad with Tequila Blood Orange Vinaigrette
Chicken Glazed with Apricot-Tequila Sauce
Margarita Veggies
Tequila Lime Rice
Spiked Apple Empanadas
Moroccan Summer Nights Menu
App: Hummus Bar with Cumin Pita Chips & Veggies
Fattoush Salad
Spice-Crusted Salmon Skewers with Harissa Yogurt Sauce OR
Shish Tawook (chicken skewers) with Lebanese Garlic Sauce (Toum)
Couscous with Quick Preserved Lemons & Homemade Harissa
Moroccan Spiced Roasted Vegetables
Almond Cakes with Lemon Creme Fraiche Glaze & Mixed Berries