Coconut Orange Cold Brew Coffee
This dreamy cup of cold brew coffee gets its flavor naturally, with orange and coconut water.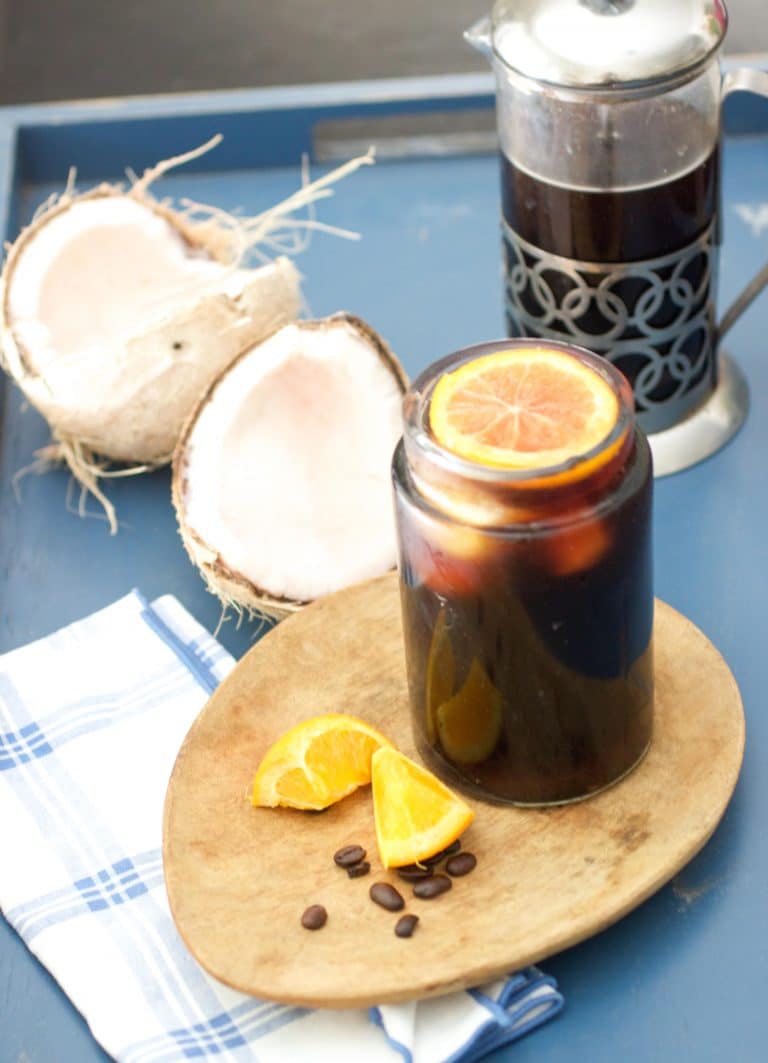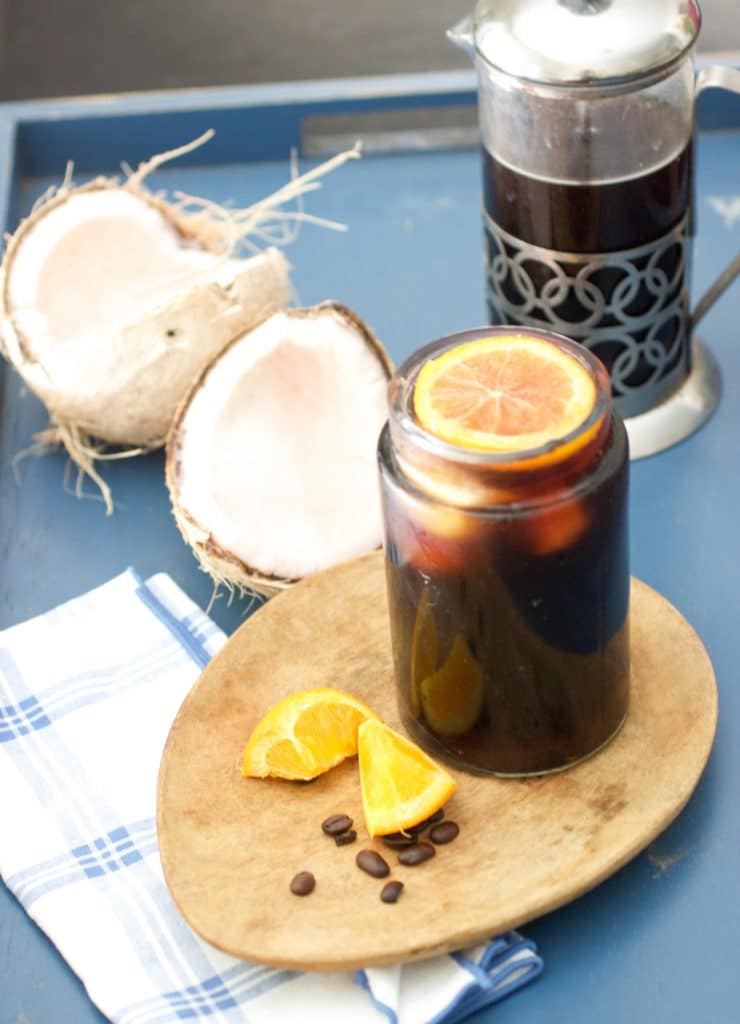 Benefits of Naturally Flavored Cold Brew Coffee
Boost your metabolism
Lift your mood.
May lower your risk of heart disease due to anti-inflammatory agents, magnesium, and anti-oxidants
Possibly lower your risk of type 2 diabetes.
Chance it will reduce your risk of Parkinson's and Alzheimer's disease.
Cold-brew is easier on your stomach than hot coffee because of the lower acidity
The key to smooth-tasting iced coffee is to cold brew your coffee. Cold-brewed coffee is 67% less acidic than it's hot-brewed counterpart.
Good quality coffee beans will equal a good cup of coffee. For the best flavor grind the beans just prior to brewing. If you don't own a grinder, buy them ground, medium not fine for best results.
Make cold-brew coffee a day ahead by soaking ground coffee in water for 12 – 24 hours. Strain out the grounds, what's left is a liquid coffee concentrate that can be stored in the refrigerator for up to 4 weeks.
To make a glass of iced coffee at any time, simply pour some of the coffee concentrate over ice and stir in desired natural flavor. Add sweetener if you like.
Drink it hot, too. Cold-brew coffee, store the coffee concentrate in the fridge and heat it for a cup of hot coffee. The low acidity makes for a smooth, delicious cup of hot coffee.
Supplies needed for making cold brew
• A large tea brewing basket (this is the perfect size for brewing and straining a 1-quart jar of coffee concentrate).
• 1-quart mason jar with lid
How to make cold-brew coffee
For every 32 ounces of water you will need 4 ounces of coffee ground. If you prefer stronger coffee use 28 ounces of water to 4 ounces of coffee grounds.
Slowly pour water into the basket of coffee until it's full to the top. The water will start soaking the coffee grounds as it passes through the filter into the jar. Use a fork to gently stir the coffee grounds helping them to evenly saturate and to help the water pass through more quickly. Continue to add water, stir, and wait for the liquid to drip through. Repeat the process until the jar is full of liquid. The coffee grounds should be completely immersed in water so they continue soaking and releasing flavor. Close the tea basket.
Close but don't completely seal the jar as this will allow any gases produced during brewing to escape. Leave out on the countertop for between 12 – 24 hours, at room temperature.
After the 12 – 24 hours of brewing, remove the brewing basket with the coffee grounds. Seal the jar and refrigerate for up to 1 month.
Print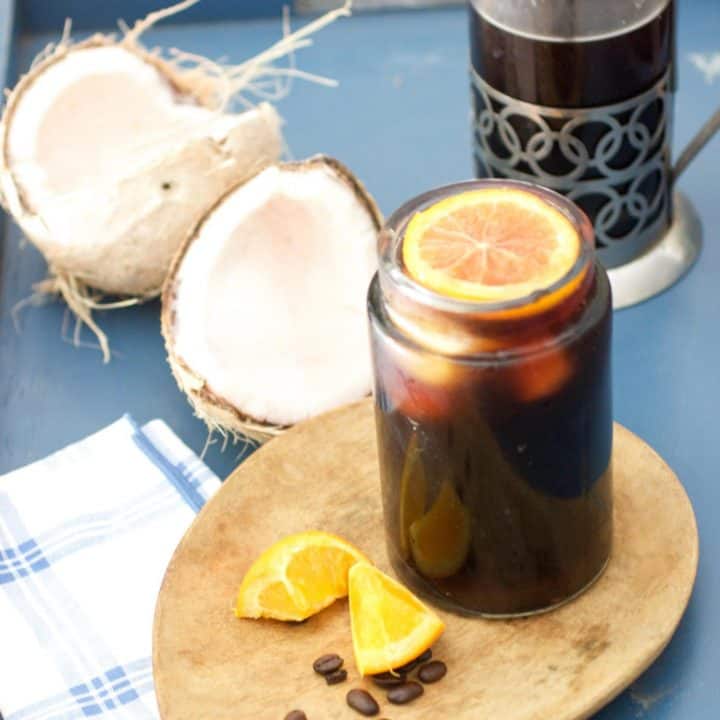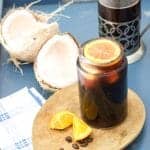 Coconut Orange Cold Brew
---
Description
This dreamy cold brew coffee is flavored naturally with orange and coconut water.
---
3

fl oz cold-brew coffee

3

fl oz coconut water
A few drops of organic orange extract

1

Orange (thinly sliced)
Stevia to taste
Ice (optional)
---
Instructions
Fill the glass with ice and fill will cold-brew coffee. Stir in coconut water, orange extract, and stevia to taste.
Prep Time:

12 hours

Category:

Drinks
Nutrition
Calories:

155

Sugar:

26

Sodium:

101

Fat:

1

Carbohydrates:

42

Fiber:

7

Protein:

3
Keywords: coconut, coffee, orange
Check Out These Coffee Recipes