Cinnamon Butterscotch Scones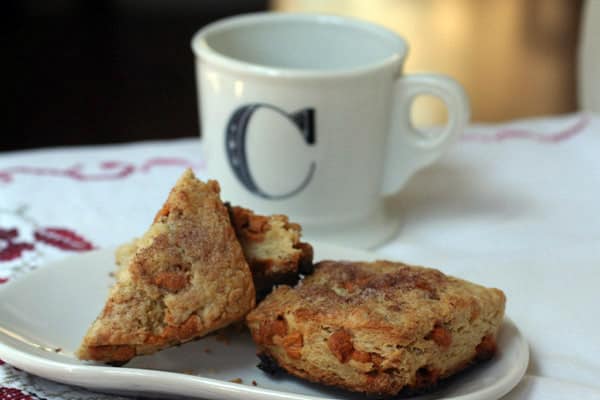 When I was attending the She Speaks conference in July, we ate at this cute restaurant, The Pewter Rose. We were served these delicious Butterscotch Scones as an amuse bouche.
The restaurant is in the historic South End of Charlotte and occupies the second floor of a turn-of-the-century textile warehouse. It is light and airy with ceiling fans all across the ceiling. It is called an eclectic casual bistro that offers internationally American cuisine. Last time I visited I had a lovely goat cheese salad. Everything on their menu looked delicious and their latest special is to make an mashed potato omelette.
But back to the Butterscotch Scones. They were so good I knew I had to come home and recreate them for you! They have chips of butterscotch inside and dusted with cinnamon sugar on top. Served warm they are like having a piece of coffee cake. I made a batch and then froze half of them to have on hand. You can place them on a sheet and in the freezer for half an hour. Then place in a freezer bag. They are good for two to three months.
Butterscotch Scones
2 3/4 cups King Arthur Unbleached All-Purpose Flour
1/2 cup brown sugar sugar
1 teaspoon salt
1 tablespoon baking powder
1/2 cup cold butter, chopped & put in freezer 10 minutes
1 cup butterscotch chips
1 large eggs
1teaspoons vanilla extract
2/3 cup half and half
2 teaspoons milk
2 tablespoons cinnamon sugar, optional
Preheat over to 425 degrees.
In a large mixing bowl combine flour, sugar, salt and baking powder.
Blend the egg, vanilla and half and half in another bowl.
Cut the butter into the flour mixture. Stir in the liquid mix until combined and add the butterscotch chips.
Roll out dough about 3/4 – 1″ thick. You could drop them as well and skip rolling out the dough. Refrigerate for 1/2 hour. Brush with milk and sprinkle with cinnamon sugar.
Bake 18-20 minutes. Serve with butter and preserves.