Chocolate Espresso Cake with Chocolate Espresso Buttercream
This Chocolate Espresso Cake with Chocolate Espresso Buttercream is everything you hope a chocolate cake will be!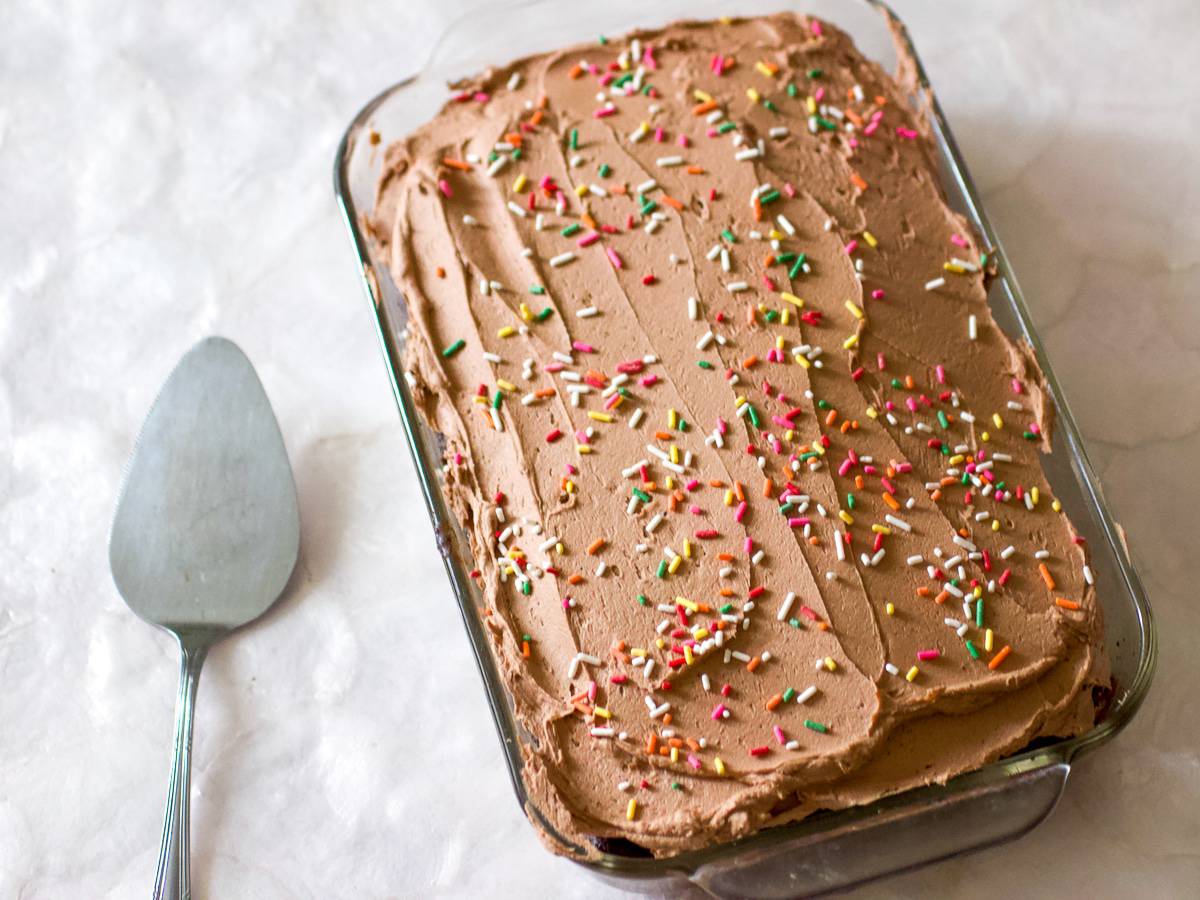 Cake isn't necessarily my go-to dessert, but this Chocolate Espresso Cake is amazing. It is rich but not too sweet. Jennifer, one of my co-workers, had a birthday which provided the perfect reason to try a new cake recipe. Espresso and chocolate are the perfect pair. The addition of espresso enhances the chocolate flavor and adds a subtle richness.
I remember baking my first chocolate cake when I was probably 8 or 9 years old. I wanted to surprise my parents for their anniversary. While they were out and I was with the babysitter I attempted my first cake. Clearly, I missed a few ingredients and I vaguely remember it being hard as a rock. I was so proud of my efforts, it's the thought that counts right?
Baking for others is still my love language. There is nothing more blissful than creating something for friends and family. I love sending my niece and nephews home with treats for them to enjoy. The only thing better, is to bake with them! Who doesn't like to receive a gift handmade especially for them.
Sheet cakes seem to be having a moment right now. They are easy, just bake in a 9x 13 pan and frost. Sheet cakes are portable and easy to cut into squares to share!
If you are a Disney fan, you should check out Jennifer's Instagram feed for all the latest Disney happenings.
What You Need to Make a Chocolate Espresso Cake
How To Make Buttercream Frosting
This is the old fashioned buttercream I love from my childhood. In a standing mixer or using a bowl and hand blender, combine softened butter, confectioners sugar, milk, and cocoa powder. Once the mixture comes together, whip until light and airy. The key is to whip a bit longer than you normally do. Finish by adding in the espresso powder and vanilla.
Who can you bake some goodies for you this week?
If you love chocolate, these Chocolate Raspberry Potpies are unbelievable.
[mv_create key="207″ type="recipe" title="Chocolate Espresso Cake with Chocolate Buttercream" thumbnail="https://adventuresinthekitchen.com/wp-content/uploads/2019/06/fullsizeoutput_1c4.jpg"]