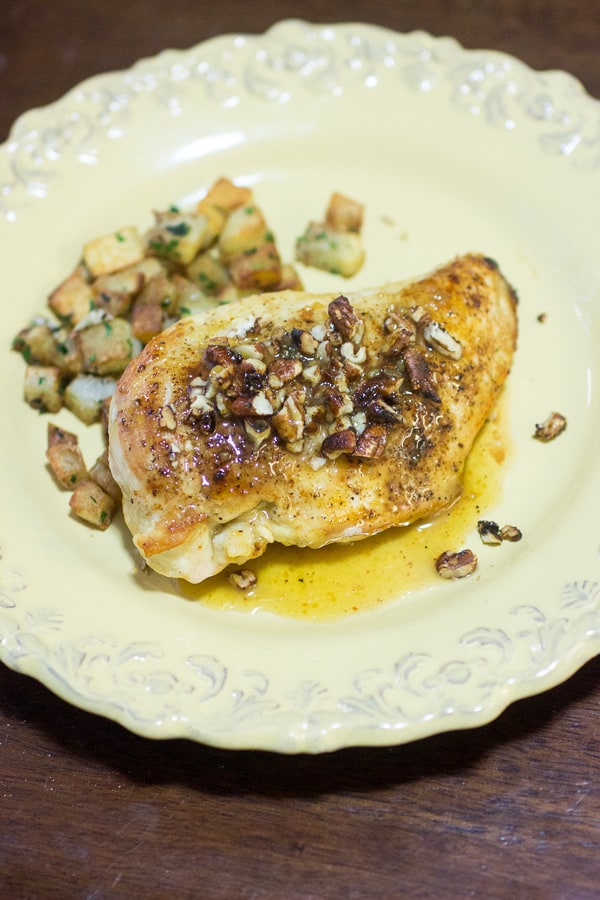 UPDATE: The class registration is open now!

If you could see me, you'd see me doing my happy dance. In addition to sharing the recipe for this Mustard Pecan Chicken, I have an announcement. Adventures In The Kitchen is becoming a cooking school here in Old Towne Orange. Honestly, pinch me and tell me it's true!
There are dreams you have deep in your soul that you never share. Dreams you don't allow yourself to even believe could come true. The last month has been a whirlwind of breakthroughs after a bit of a desert period in my life. I would love to tell you the whole story, but in a few words, a turn of events that truly were straight from God led me to Le Gourmet Kitchen.
I went there looking for a space to hold a series of cooking classes for a new corporate client and discovered  this beautiful little space. I met Bruce and Jonathan, the owners of the gourmet kitchen store and now I am  opening up the Adventures In The Kitchen Cooking School.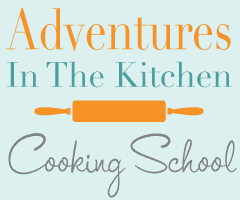 Here is the new logo.What do you think?
My dream is to build an cozy cooking studio where you can learn to cook or sharpen your skills. In keeping with historic Old Towne Orange, we will offer The Vintage Kitchen series where we will put modern twists on classic dishes. We're kicking it off with Vintage Cakes June. We will offer Date Nights and Girls Night Out.
I hope to entice cookbook authors to come and cook for us in the demo kitchen and maybe sign a few books. Hopefully, a few of the great chefs in the area will come and teach a class.
Adventures In The Kitchen will still be home to my blog and feature new recipes on a weekly basis. If you live in Southern California hopefully you will join me for a class. I have a June schedule up and will be adding more classes later this week. If you follow food blogs you will see that a few of my local blogging and chef friends will be offering classes including Nancy, Louise and Kim.
Nancy will be teaching a class for cooking basics for college bound kids along with a Tapas class. Louise will be teaching us how to craft Mad Men Cocktails and appetizers for a Mad Cocktail party on Friday, June 21 at 6 pm.
Guisy will be teaching authentic Italian cooking classes featuring homemade pasta and fresh ingredients. She is a native of Italy, moving her about ten years ago with her husband and children. Her first class is Date Night: Rustic Italian on June 15.
My friend Shelli is a graduate of Laguna Culinary Arts and she is going to teach Knife Skills for Dummies in June.
Let's Celebrate
Opening a cooking school calls for a celebration! So, today we are launching the Adventures In The Kitchen Cooking School Month Long Giveaway. Each week this month I will be giving away two seats in the class of your choice($138 value), for you and a friend to come and try a class out.
But that's not all. I am offering AIK readers a 20% discount off the June classes. Pick a class you would like to attend and enter the code AIKFriends in the promo code box.
To enter the giveaway, simply leave a comment on this post sharing the class you would most like to attend! For additional entries, share a link with info about this giveaway on any of your social media outlets. Return to this post and leave a comment letting me know where it was shared. Each place you share it will grant you an additional entry.
Pinterest
, 
Twitter
, Facebook, Google+, etc are all great places to spread the giveaway love! You can easily share by using the buttons at the end of this post.Entries must be received by midnight PST on Friday, May 10th 2013. Winner will be chosen via Random.org and notified via valid email address.
I can't end without sharing a recipe I tried recently for Chile Pecan Chicken. It is simple and easy to make. Years ago I copied this from the Dean and Deluca Cookbook and finally made it last week.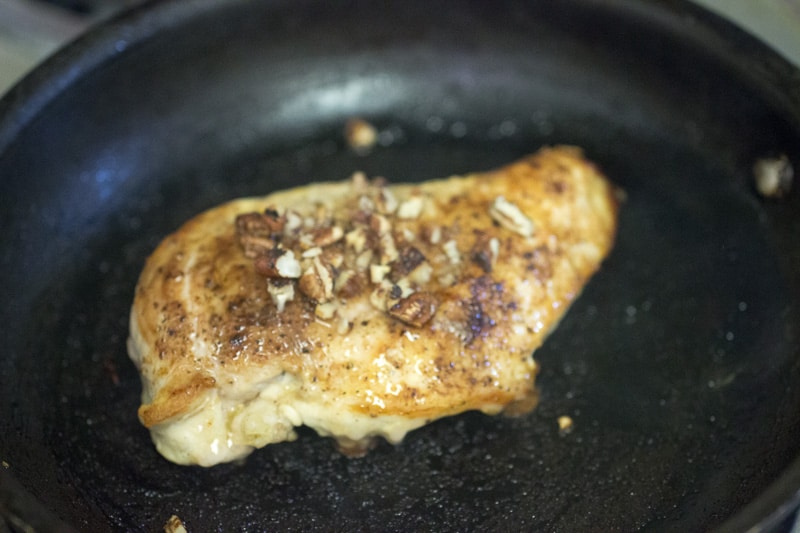 Chile Pecan Chicken and An Announcement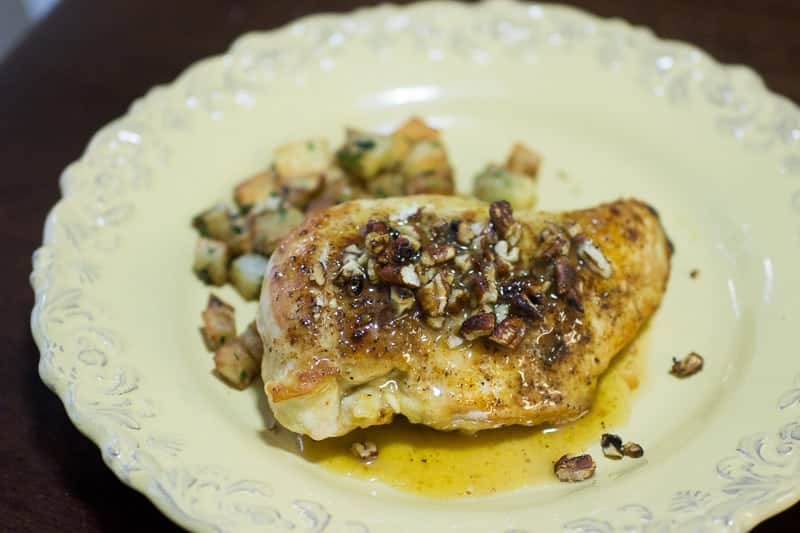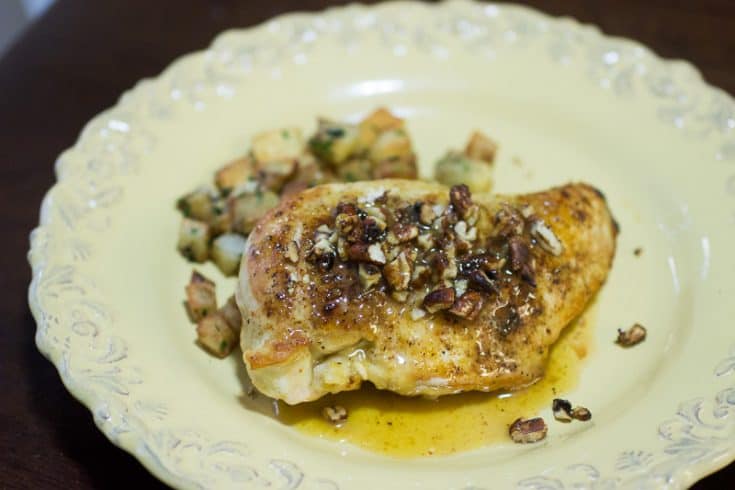 Ingredients
1 cup honey
1/2 tablespoon vinegar
1 tablespoon unsalted butter
2 tablespoons Dijon mustard
6 tablespoons ground red chile
2 1/2 teaspoons salt
1/2 cups sugar
1 cup pecan halves
4 boneless, skinless chicken breast halves
Instructions
To make the glaze: In a small saucepan, combine all the ingredients. Heat until well combined. Set aside.
To make the pecans: In a small bowl, mix the ground chile and salt. Set aside. In a medium saucepan, place pecans and sprinkle with sugar. Cook over medium high heat until the sugar melts, do not burn. Sprinkle with chile salt mixture and pour onto parchment paper to dry. Chop the pecans.
Preheat the oven to 350F. In a large saute pan or skillet, heat the oil over medium high heat and cook the breasts on both sides until they are golden brown, about 5 minutes per side. Using a slotted spoon, transfer to a baking pan. Place the pan in the oven and roast until the breasts are firm to the touch and opaque throughout, 10 to 12 minutes.
Remove chicken from the oven and brush with the glaze generously over the breasts. Cover each evenly with 2 to 3 tablespoons of the chopped pecans.
Nutrition Information:
Serving Size:
1 grams
Amount Per Serving:
Unsaturated Fat:

0g