Chicken with Pomegranate Shallot Pan Sauce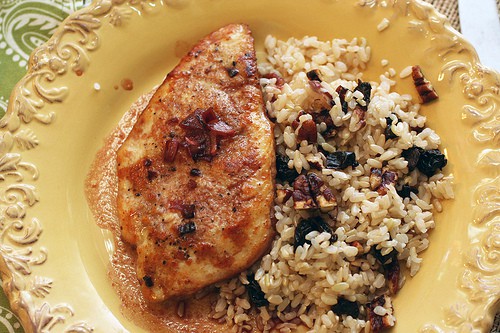 his weekend I was in the kitchen making Chicken with a Pomegranate Shallot Pan sauce that exceeded my expectations. The nice folks at POM had sent me samples of their pomegranate juice to try. I found a recipe in Cooking Light and then played with the sauce. It turned out rich, smooth and tangy.
A few weeks ago when we went wine tasting in Los Olivos I had bought a bottle of Pomegranate Balsamic Vinegar at the Lincourt Winery. Instead of sugar I used honey. The vinegar gave it a strong taste but the honey gives it a smooth and sweet undertone.
Best of all this is low fat and made in less than 20 minutes making it the perfect weekday meal. As a side I cooked up a bag of Trader Joe's Brown Rice that I had in the freezer and stirred in toasted pecans and dried cherries. It was a nice accompaniment to the Pomegranate sauce.
Chicken With Pomegranate Shallot Pan Sauce
adapted from Cooking Light
Serves 4
4 thinly sliced boneless, skinless chicken breasts
1 teaspoon salt
1/2 teaspoon freshly ground pepper
1 teaspoon garlic powder
1 teaspoon cumin
2 tablespoons olive oil
1 shallot diced
3/4 cup POM pomegranate juice
2 teaspoons Linwood Winery Pomegranate Balsamic vinegar (balsamic vinegar is ok)
1 teaspoon honey
Combine first 4 ingredients in a small bowl; sprinkle over chicken.
Heat oil in a large nonstick skillet over medium-high heat. Add chicken; cook 3 minutes on each side. Remove and keep warm. Add shallots to pan; cook 45 seconds, stirring constantly. Add juice, 1 tablespoon sugar, and vinegar; bring to a boil. Cook for 5 minutes or until slightly thick. Serve chicken with sauce.
Brown Rice with Cherries & Pecans
2 cups brown rice, cooked
1/8 cup dried cherries, chopped
3 teaspoons pecans, toasted and chopped
1 tablespoon butter
In a small nonstick skillet melt the butter and stir the pecans in until coated. Stir pecans and cherries into the rice and serve.
Disclosure: The fine people at  POM Wonderful provided me with samples of their POM Juice for the purposes of review. I was not compensated for this review outside of the product sample. Opinions are my own.