Birthday, Affirmations and Cinnamon Sugar Waffles with Warm Peach Compote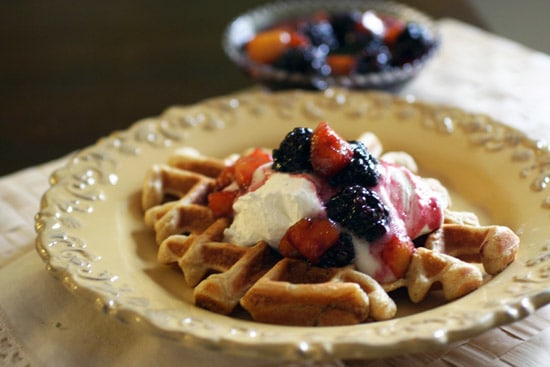 Today we are talking about Birthdays and one fun tradition is a special breakfast. This Cinnamon Sugar Waffle with Warm Peach and Blackberry Compote will make the birthday person feel very treasured.
I have many special birthday memories I could share with you. In my 30's there was one year that had been particularly difficult. I was unemployed, struggling with some family issues and just on a life changing path that year. One evening I went to a friends for a barbecue only to be surprised by a half birthday party. It was so fun and most unexpected. They showered me with little gifts but most of all with sweet affirmations.
The definition of affirmation is the declaration of the truth of something. It was a tradition with my friends to affirm people on their special days whether it was a birthday or maybe a shower. We would share something we saw in them, something that stood out and made them special. Maybe a character trait or a special gift they had. Now no one, well most people, don't ask for affirmations. People squirm and when asked to sit and receive them. As I have grown older I realized not everyone is brought up where they are cherished or affirmed for things in their life.
It is a simple but powerful gift to someone. You are saying to someone you matter. If you listen in today you will hear Ali from Frister's, an organization for teen moms, talk about the power of affirmations on the young moms. It is a wonderful practice to instill in young children. So here are a few ways to affirm someone in your life whether it is their birthday or not!
1. Table Affirmations – Put all your family names or dinner guests names in a bowl and each person draws the name and says "I am thankful for _____ because ____________."
2. Notes of affirmation – shower the person with notes of affirmation. When my friend Tracy was getting married I sent out pre-addressed envelopes and notecards to all of our friends and asked them to mail them to them one week before their wedding. Suddenly their mailbox was brimming with notes of love and affirmation.
3. Tuck notes of affirmation in your child's lunch box or tape a note on your bathroom mirror for your spouse or roommate to see.
4. Jar of Affirmations – Have people write down their affirmations on small pieces of paper. Place in a cute jar, I like to use canning jars and wrap a ribbon around it. The recipient can take one out when they are feeling blue and be encouraged.
5. Photo book – have everyone bring their favorite picture of the person you want to affirm. Have a glue stick, pen and a small album. Ask them to glue the picture in and write a note of affirmation. It turns into a special memory book for them to take home.
Don't forget to tune in today at 4pm and listen to Adventures In The Kitchen radio on KKLA 99.5. Jeanine Hardgrave and Ali Woodard from Frister's join me to talk birthdays and celebrating those we love!
Cinnamon Sugar Waffles with Warm Peach Compote
1/4 cup sugar
2 tablespoons cinnamon
1 cup all purpose flour
1 cup whole wheat flour
1 3/4 cup buttermilk
1 1/2 teaspoons baking soda
1/2 teaspoon salt
1 teaspoon vanilla
4 tablespoons butter, melted and cooled
2 eggs, separated

Mix in a small bowl the sugar and cinnamon and set aside.
Combine the dry ingredients. Mix together the buttermilk, vanilla and the egg yolks. Stir in the butter.
Brush the waffle iron lightly with oil and preheat it. Stir the wet into the dry ingredients. Beat the egg whites with an electric mixer until they hold soft peaks. Gently stir them into the batter.
Pour a 1/3 cup of batter onto the waffle iron and sprinkle with the cinnamon sugar mix. Bake until the waffle is done, usually 3 to 5 minutes, depending on your iron. Serve immediately or keep warm for a few minutes in a low oven.
Top with warm compote and whipped cream for a special occasion!
Warm Peach Compote
1 1/2 cups fresh peaches, skin removed and sliced
1/2 cup blackberries
1/3 cup dark brown sugar
3 tablespoons water
1 teaspoon ground cinnamon
1/2 teaspoon nutmeg
1/2 teaspoon thyme, chopped

Place peaches, sugar, water, cinnamon and nutmeg in a saucepan and bring to a boil. Reduce and simmer for 10 minutes. Stir in the blackberries and thyme and cook for 5 more minutes or until thickened. Remove and serve warm or cool.