BBQ Chicken Stacked Enchiladas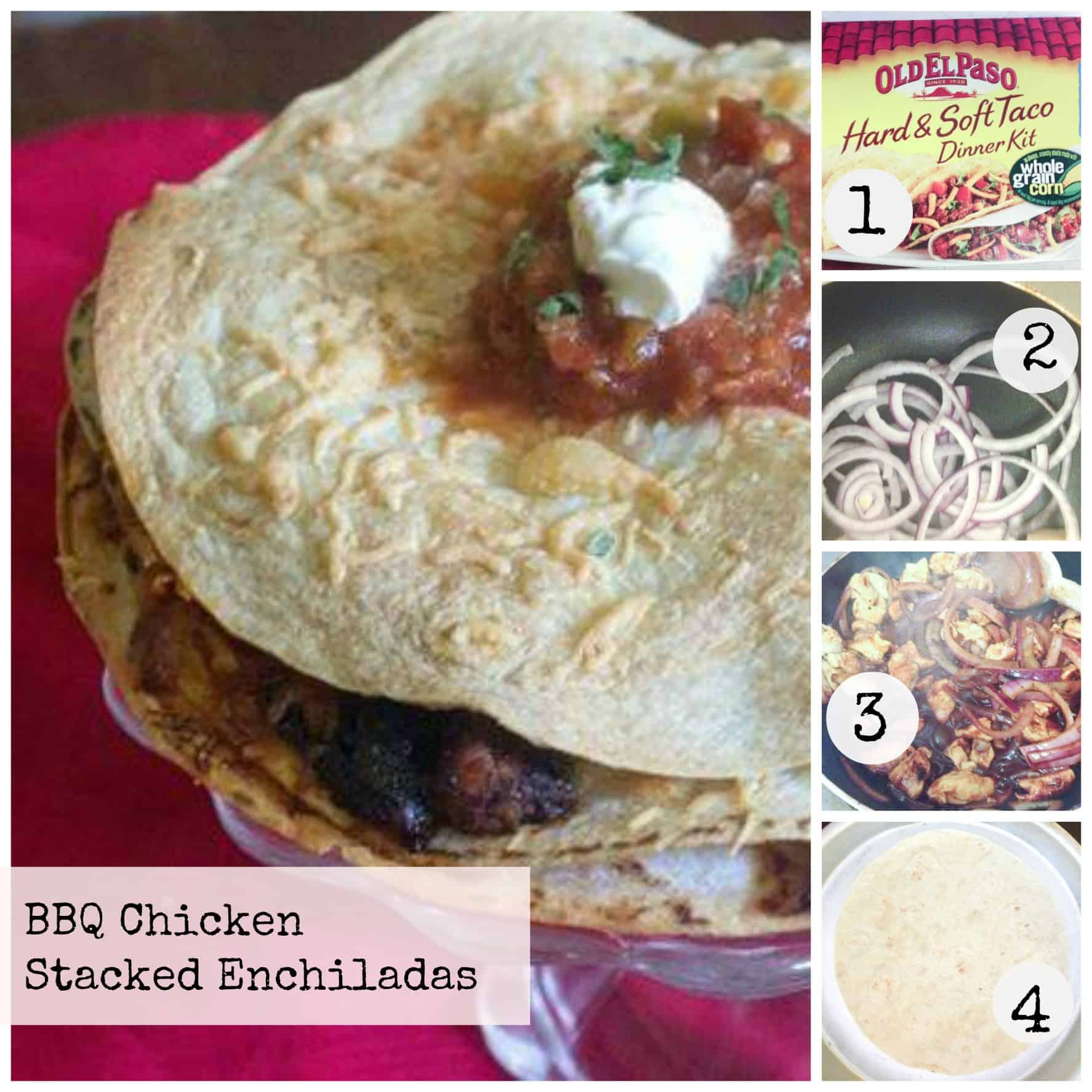 I am not a huge sports fan. You may have noticed. But I love gathering my favorite people together and guys love to eat while watching sports. These BBQ Chicken Stacked Enchiladas are a game day favorite.
This year my nephews were all into March Madness. It was fun to see them follow the games and talk about brackets. I confess I am not sure what it all meant only that Warren Buffet made some offer on opening weekend that caught everyone's attention. My nephews are making me more of a sports person because I love them and they love basketball. That equals me going to sports centers where 20 games are going on at the same time and cheering them on.
The last March Madness I participated in was going to Las Vegas with two of my girlfriends and meeting up with a few guy friends from New York who were there to watch the games. It was fun and a little crazy. Vegas is the place to be for March Madness it seems!
If you are watching the game today and need an easy recipe these BBQ Chicken Stacked Enchiladas will help you out. As part of a series of recipes I developed for my friends at Old El Paso®, I used their Old El Paso® Hard & Soft Taco Dinner Kit. This kit, along with chicken, a red onion and barbecue sauce is all you need to create a delicious meal.
Start by sautéing your red onion. Add the chicken and cook just until meat is cooked through.
While the chicken is cooking pour enchilada sauce into a bowl and whisk in your favorite BBQ sauce until combined. Stir in cayenne pepper and taco seasoning. Add half the sauce and stir until covered.
Take a cake pan and place a tortilla in the bottom. Top with 1/3 of the chicken and a little sauce. Repeat two more times. End with a tortilla topped with a little grated cheese. Place in the oven and bake for 15 minutes or until the top is browned. Serve topped with sour cream and salsa. Cut into slices to serve.
Visit Old El Paso to find more recipe inspiration. These Chicken Enchilada Pizza or Kung Pao Chicken Tacos would also be great for your game day.
How did your teams fare? Who are you rooting for in the final game? You know where you will find me…in the kitchen cooking up food for those I love.
Print
Stacked BBQ Chicken Quesadillas
---
4

large Old El Paso® flour tortillas

2

boneless (skinless chicken breasts, chopped in 1/2 inch cubes)

1

packet Old El Paso® taco sauce

1/2

cup

of your favorite BBQ sauce (or more depending on your tastebuds)

1/2

large sweet onion (sliced)

1 tablespoon

BBQ seasoning

1 tablespoon

Old El Paso® taco seasoning mix
pinch of cayenne pepper

2 tablespoons

olive oil

2

cup

shredded Monterey jack cheese
Salsa
Sour Cream
---
Instructions
Heat oven to 375°F. Pour enchilada sauce into a bowl and whisk in your favorite BBQ sauce until combined. Stir in cayenne pepper and taco seasoning.
In a large skillet, heat 2 tablespoons of olive oil on low-medium. Add sliced onions with a pinch of salt, and let caramelize until soft and golden – about 10 minutes. Remove onions from pan. Add chicken and cook until brown on each side and cooked through, about 5 minutes. Add 1/2 the sauce to the pan and stir until covered.
Spray a 9-inch round pan with canola and place one tortilla on the bottom. Brush with sauce and top with 1/3 chicken mixture. Sprinkle with cheese and top with another.
Pour a drizzle of enchilada/BBQ sauce in the bottom of a baking dish. Take each tortilla and fill it with 1/2 + of chicken mixture. Top with another and repeat 2 times. Sprinkle cheese over the top and bake for 15 minutes or until top is lightly brown. Serve with salsa and sour cream.