Barbecue Pulled Pork Sandwiches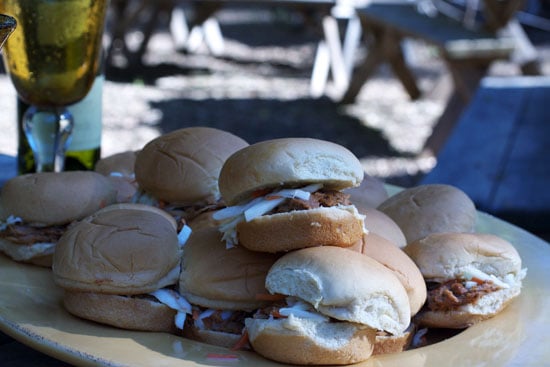 I made these Barbecue Pulled Pork Sandwiches for an private event this week at Joan Embery's Ranch. She has a large group of wildlife ambassadors that she brings with her on speaking engagements. We had the opportunity to have a private viewing at her 50-acre ranch in Lakeside.


I will share more details and pictures(not taken from an iphone) soon but here is one of the animals we had a change to see – a Lemur from Madagascar. The handler shared how he had to stand in front of his cage for an hour a day for 6 months before he'd let him touch him. When someone asked what happens if he doesn't like you he replied "he grabs you pulls, you to the cage and bites you, he especially likes grabbing ponytails." One of our young guest quickly removed her ponytail! The Lemur was pretty cute. I kept thinking Lion King.
She is an equestrian with many types of horses on her property. Her property was beautiful with an Out of Africa theme. She hosts  corporate and educational events there frequently. Here is a peek of the tables outside the tent.
These Barbecue Pulled Pork Sandwiches were easy to make using a slow cooker. The meat fell off the bone. I topped the pork with a tangy coleslaw and served on mini buns as they were an appetizer for this event. At home they could be the main meal or part of your 4th of July barbecue.
Barbecue Pulled Pork Sandwich
by Good Housekeeping
Prep Time:  15 minutes  Cook Time:  6-8 hours  Serves 12-15
1 medium onion, chopped
1/2 cup ketchup
1/3 cup cider vinegar
1/4 cup packed brown sugar
1/4 cup tomato paste
2 tablespoon sweet paprika
2 tablespoon Worcestershire sauce
2 tablespoon yellow mustard
1 1/2 teaspoon salt
1 1/4 teaspoon ground black pepper
4 pound boneless pork shoulder blade roast (fresh pork butt), cut into 4 pieces
12  soft sandwich buns or ciabatta rolls, warmed
Directions
In 4 1/2- to 6-quart slow-cooker pot, stir onion, ketchup, vinegar, brown sugar, tomato paste, paprika, Worcestershire, mustard, salt, and pepper until combined. Add pork to sauce mixture and turn to coat well with sauce.
Cover slow cooker with lid and cook pork mixture on low setting as manufacturer directs, 8 to 10 hours or until pork is very tender.
With tongs, transfer pork to large bowl. Turn setting on slow cooker to high; cover and heat sauce to boiling to thicken and reduce slightly.
While sauce boils, with 2 forks, pull pork into shreds. Return shredded pork to slow cooker and toss with sauce to combine. Cover slow cooker and heat through on high setting if necessary.
Spoon pork mixture onto bottom of sandwich buns; replace tops of buns. Serve sandwiches with pickles, potato chips, and hot sauce if you like.
Tangy Coleslaw
2 bags of pre-packed coleslaw
1/2 cup mayonnaise
1/4 cup mustard
2 teaspoons apple cider vinegar
2/3 cup sugar
1 teaspoon black pepper
1/2 teaspoon cayenne
Salt
Mix together all ingredients other than coleslaw in a small bowl. Toss dressing with the coleslaw mixture, and season with salt and pepper, to taste. Cover with plastic wrap and chill for at least 2 hours before serving.
Dressing can be made the day ahead and refrigerated until needed.