Baked Lemon Buttermilk Donuts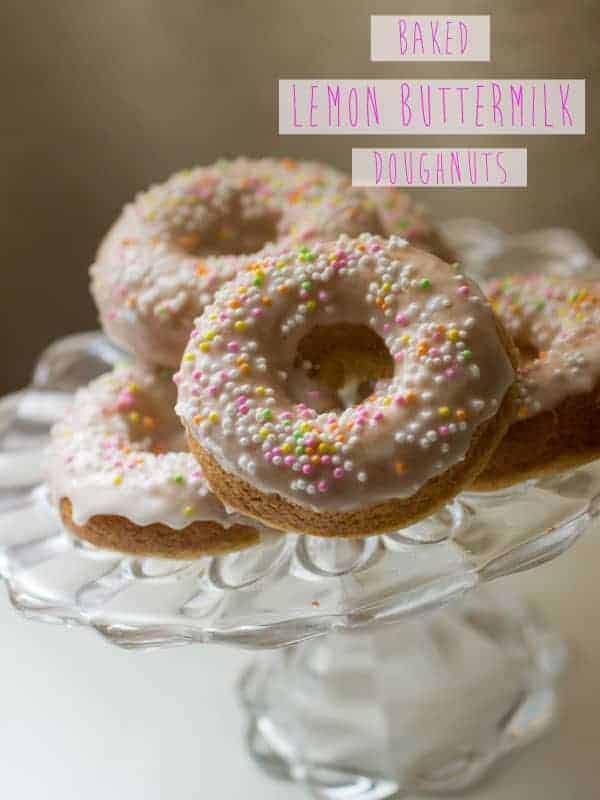 It was an Eggstravaganza at this month's FBLA meeting. Kim from Rustic Garden Bistro hosted us the meeting and Davidson's Safest Eggs sponsored the event. I first became acquainted with Davidson's last fall. Their eggs are pasteurized which makes them very safe for those with a comprised immune system. You can feel comfortable making recipes that contain raw eggs, like Caesar Salads.
Remember the Green Eggs and Ham Popovers from last month to celebrate Dr. Suess's birthday?
Back to our Eggstravaganza. My friend Louise, of Geez Louise, gave a demonstration on Mac and Cheese while we talked about recipe development. It's fun to hear how others develop their recipes. Then it was time to eat. Never a lack of food at a food bloggers meeting.
I brought Baked Lemon Buttermilk Donuts that were divine. They are made with yogurt, lemon and lemon zest. They are light and healthier than the fried, but oh so good, variety.
A few weeks ago I taught a demo at Surfas Culinary District in Costa Mesa. I was a bit nervous and it only grew when I walked in and saw that sign!
It was the day before Easter so I was thinking the class would be small. Luckily, I was prepared because there were close to 100 people there. We had fun talking about Healthy Mexican and sampling Fish Taco's and Mango Brie Quesadillas. Ok, so maybe only the Taco's and Salad were healthy!
My fun news to share is that the cooking demo went so well that I am launching a series of classes. These will be different than the demo – they  will be small hands on classes in the beautiful new kitchen at Surfas. We will enjoy a glass of wine, after the heavy knive skills are complete and sample a generous tasting of our meal. I have scheduled the first two:
Island Fever Cooking Class featuring a Hawaiian inspired meal
Blackberry Pineapple Mojito
Hawaiian Ahi Poke with Wasabi Creme Fraiche
Roasted Beet and Mauri Onion Salad with Orange Ginger Dressing
Lemongrass Hoisin Marinated Strip Steak with Sauteed Corn with Basil Butter
Coconut Mango Rice
Boozy Pineapple Upside Down Cake
Mom and Me Mother's Day Brunch Cooking Class
Tropical Morning Smoothie
Fruit Salad with Lime Yogurt Vinaigrette
Easy Breakfast Egg Bake
Maple Glazed Bacon
Strawberries & Cream Monkey Bread
Mother's Day Cookie Bouquet
I have lot's of little things planned for the Mom and Me class. It will be a special time. Dad's are welcome too!
You can reserve your spot on each of the class pages. I would love to have you join me. We will have a great time! Look for a giveaway later this week.
To see the other recipes from Saturday's Eggstravaganza you can see them here.
[mv_create key="76″ title="Baked Lemon Buttermilk Donuts" thumbnail="https://adventuresinthekitchen.com/wp-content/uploads/2013/04/Baked-Lemon-Buttermilk-Donuts1.jpg" type="recipe"]