Arugula, Date, Parmesan and Almond Salad
Happy New Year everyone. 2010 is here and I have lots planned for Adventures In The Kitchen this year.
It is the time of year where we set goals for the year. One of mine is to eat healthy more consistently and exercise 3 x's a week. I am also planning to bring healthy lunches so that I don't end up starving and buying something I really don't want or need for lunch.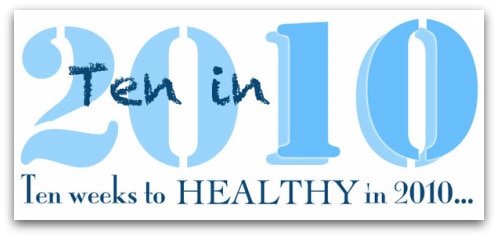 I joined the Ten in 10: Ten Weeks to Healthy in 2010 group of food bloggers who have set goals for the first 10 weeks in 2010. The Ten in 10 challenge is from Lori of Recipe Girl. You can read more about it here. Each person is setting there own goals for the challenge. Each week I will post one recipe that ties into low fat or healthy eating. We can encourage each other.
In the spirit of healthy cooking I am sharing  a salad I have made several times lately. It is loosely based on one of my favorite Los Angeles chefs, Suzanne Goin. She has several restaurants in LA and her first one was Lucques. Much of her food is influenced by the mediterranean. If you are ever here you should visit. It is on the more pricey side but on Sunday's she has a pre-fixed that is more reasonable.
What are you food and health related goals for the year? Share them in the comments below so we can all root each other on this year.
Arugula, Clementine, Parmesan and Date Salad
3 clementines (feel free to use oranges)
1 1/2 – 2 cups arugula
8 fresh and moist Deglet Noor dates pitted and cut in two, or 4 Medjool dates
12 to 16 large paper-thin slices of Parmigiano-Reggiano cheese
1/4 cup toasted almonds
Champagne Honey Vinaigrette
Slice stem and flower ends from oranges. Using a sharp paring knife and working from top to bottom, slice off peel and pith. Thinly slice each orange crosswise.
On a platter, scatter 1/3 of arugula leaves. Then layer rest of ingredients, placing 1/3 of dates on top of and around arugula, then slices of orange and a few slices of cheese, and almonds. Continue layering until all ingredients mingle but are not piled up. Sprinkle with vinaigrette. Serve.
Champagne Honey Vinaigrette
1 teaspoon dijon mustard
1 shallot, finely chopped
1/4 cup Champagne Vinegar
1 tablespoon honey
Freshly ground black pepper
1/2-1 cup Olive Oil (based on your preference – I like it tart)
Mix the mustard, shallots, vinegar and honey together. Salt and Pepper to taste. Whisk in the olive oil.