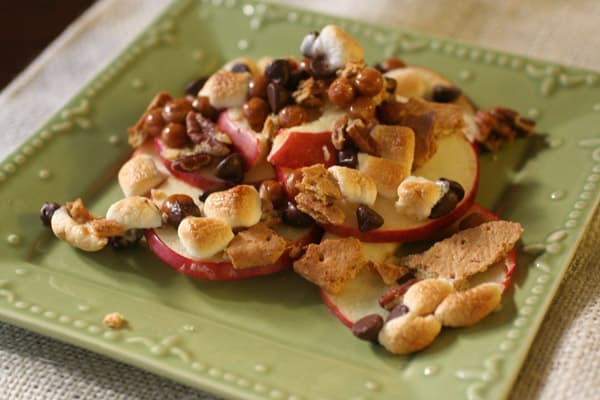 I am recording a fun show today about Holidays, Friendships and Traditions. I think you will enjoy it but more about that later. I am sharing a quick snack that I hope you will enjoy – Apple S'mores.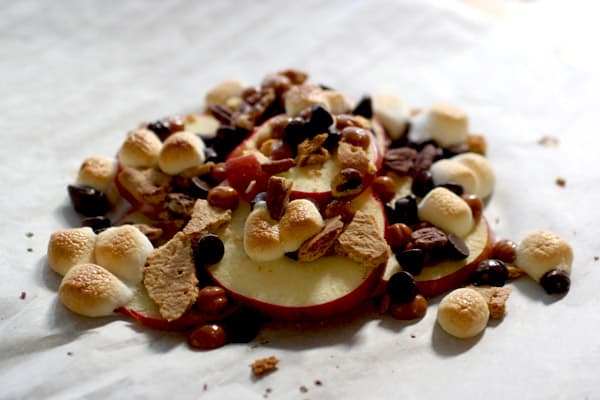 You peel, core and slice apples. This one make is very easy (so my niece says), I am hoping for lessons later today! Then you just layer the apple slices and top with marshmallows, caramel bites and crumbled graham crackers.
This Sunday listen to Adventures In The Kitchen radian on KKLA 99.5  Joy Creel Liefeld and Deanna White.
Apple S'mores
Serves 4
4 apples, peeled, cored and sliced
1/2/ cup marshmallows
1/4 cup Kraft caramel
1/2 cup crumbled graham crackers
Drizzle of Chocolate (optional)
Preheat oven to 400 degrees.
Spread the apple slices on a baking sheet lined with a silpat or parchment paper.
Top with the marshmallows and caramel bites. Sprinkle the graham crackers over the top and place in the oven for 10 minutes or until caramel starts to melt and marshmallows are browned.