Roasted Garlic Potato Soup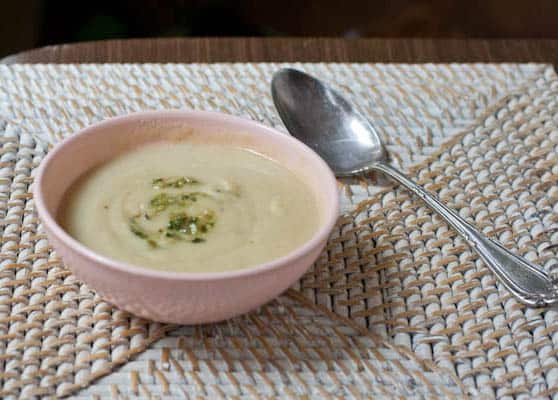 It's been a great day and there is lot's to share. First, I am excited to be nominated for a 2012 Homie for best recipe blog. I have no expectations of winning with the amazing blogs that are nominated but would love your vote! It would mean a lot to me! You can check out other great blogs over there. They have several categories and is a fun way to find new sites. If that isn't enought I am also participating in Dine & Dish and Tidy Mom's Soupapalazoo.
Recently, I decided to take a Food Writing class with Molly O'Neill to hone my writing skills. I guess you will all be the judge of how I did, down the road. But today, I interviewed Cathy Thomas, Food Editor for the OC Register, our local newspaper. She was so inspiring and left me with lots to ponder. I will share the piece with you in the next few weeks but in the meantime visit her site or read her articles here.
Remember a few weeks ago when I made Roasted Garlic? Well, I had always wondered what garlic soup would taste like so I decided to give it a try. After looking at many recipes I decided to try a garlic and potato soup with a rosemary pesto. I mixed and matched ingredients to create this smooth, delicious soup. The potatoes simmer in the broth alongside the garlic and onions. Once pureed add the milk, cream if you feel decadent, and heat the soup up. Swirl the rosemary walnut pesto in the middle.
Don't forget to enter to win a Zoku Quick Pop Maker over here.
Finally, "Come join SoupaPalooza at TidyMom and Dine and Dish sponsored by KitchenAid, Red Star Yeast and Le Creuset"
[mv_create key="35″ title="Roasted Garlic Potato SOup" thumbnail="https://adventuresinthekitchen.com/wp-content/uploads/2012/02/IMG_9754.jpg" type="recipe"]