Roasted Cinnamon Apple Oatmeal Because Meals Matter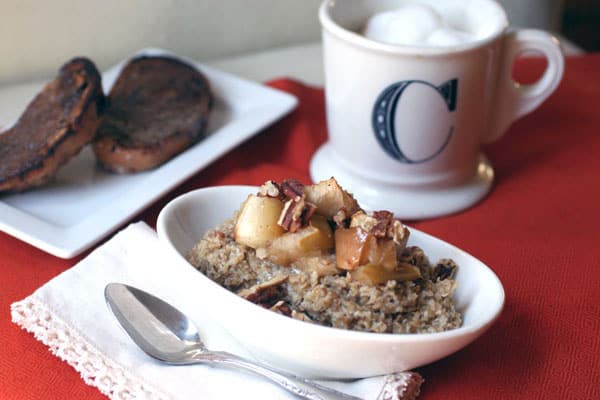 I wrote this post as a participant in the Eat Better, Eat Together Balancing Act blog carnival hosted by MealsMatter and Dairy Council of California to share ways families everywhere can make time for family meals that include foods from all the food groups. A list of other registered dietitians and bloggers who are participating in the Balancing Act blog carnival will be listed at the bottom of this post or can be found at MealsMatter.
I grew up in a home where we ate dinner together as a family every night. Sunday lunch, after church,  we would go out but other than that my mom served us dinner and we gathered around the table together. What if I told you that dinner was one of the strongest tools in your relational toolkit?
Every Friday night I hang out with my niece and nephews. Sometimes I cook and other times we take out but it is my chance to sit around the table and talk with them. It is precious time, time I know will change as they grow up and become adults. Not having my own kids they have filled a special place in my heart and I see them as my little gifts from God.
Around  the table I have learned so much from the kids. What they like, what they hate, what matters to them. I know one wishes all day was recess and that the another loves to talk and is very curious. One loves to cook and is my biggest cooking cheerleader. I prayed with them for three years for their friend to be healed and when she died I prayed with them for her family.
Those times don't happen when we are playing games or going out on adventures. That is why meals matter, not only nutritionally which is huge, but relationally. I created a radio show because I believe it is that important.
Did you know that if you eat as a family several time a week your children will be less likely to:
-be involved with drugs
-have sex outside marriage
-drink alcohol
In addition they will eat more balanced and healthy meals reducing the risk of childhood obesity. They will also:
-perform better in school
-have stronger relationships with their family
Would you be surprised if I told you most kids want to eat with their families? They do, so make a plan – a menu plan and write it on a board in the kitchen. Choose easy to prepare meals and get your kids involved in the process.
One of the most important meals is breakfast. It sets the tone for the day. It nutritionally sends the family off to work or to school, giving their bodies the fuel needed to get through the day.
In the fall and winter one good breakfast option is Oatmeal. I made mine with Roasted Cinnamon Apples. Oh my were they good! Oatmeal gives you whole grains and with a little milk and fruit you are providing a balanced meal, full of nutrients, to start the day. Double the recipe and you'll have enough for the next day too!
Other good options for breakfast are:
Breakfast Parfaits
Egg Quesadillas
Over at Mealsmatter.org you will find great ideas and recipes to provide your family with healthy and nutritious meals. They have dinner table suggestions, menu plans and fun ideas for livening up your family meals.
Don't stop here! Other bloggers share their stories and tips on how they juggle the balancing act of getting a well-balanced meal on the table!
10 Commandments for Guilt-Free Feeding – Maryann Tomovich Jacobsen, MS, RD
Beating the Lunch Box Blues – Katie Sullivan Morford, MS, RD
Dinner Time – Michelle Rowe, RN and Health Educator
Eat Better, Eat Together– Jessica Fishman Levinson, MS, RD, CDN
Family Dinners Fuel Healthier Kids – Susan Weiner, RD, MS, CDE, CDN
Families that Cook Together Eat Together – Kia Robertson
Making Time for Family Meals: How I've Earned My "RDH" – Trina Robertson, MS, RD
Meal Planning: Taking the Stress Out of the 'What's for Dinner'– Laura Everage
Pressed for Time? Moms Know Best: Tips for Getting Food on the Table – FAST! – Samantha Lewandowski, MS, RD, LDN
Roasted Cinnamon Apple Oatmeal – Cheri Liefeld
Sunday Night Family Dinner, In the Dining Room – Jill Castle, MS, RD, LDN
The Balancing Act – Ann Dunaway Teh, MS, RD, LD
The Power of Family Meal Time & How to Squeeze It In! – Bridget Swinney MS, RD, LD
The Truth About Family Dinner – Sally Kuzemchak, MS, RD
Toughen up: Give Two Choices for Dinner – Take it or Leave it! – Glenda Gourley

Roasted Cinnamon Apple Oatmeal
Your favorite oatmeal
4 apples peeled and cut into 1 inch chunks
2 tablespoons butter
1 tablespoon cinnamon
2 tablespoons brown sugar
1/2 cup pecans, toasted and chopped
Preheat oven to 400 degrees. Place apples, butter, sugar and cinnamon in pan and bake for 15 to 20 minutes.
Top oatmeal with apple mixture and sprinkle pecans over the top.