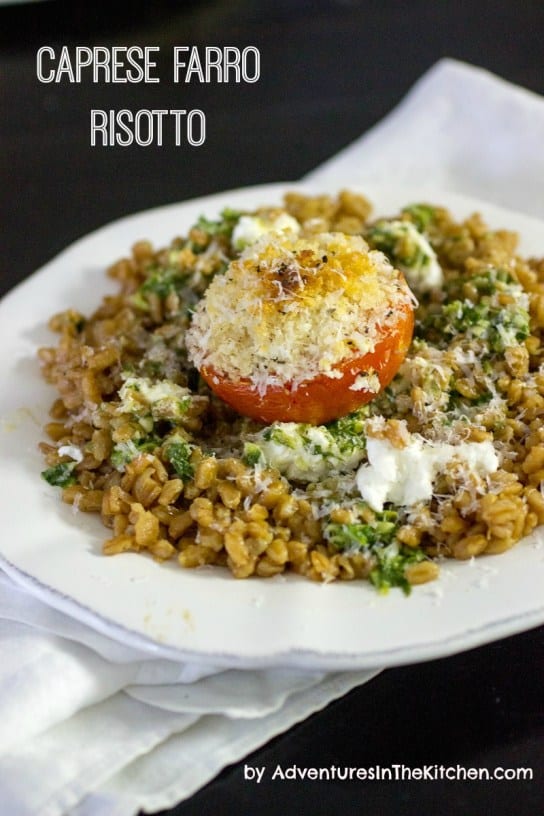 Today I am sharing my latest obsession with you, Caprese Farro Risotto. Seriously, I had this for dinner twice this week. I don't know what took me so long to cook with farro but it will be on regular rotation here.
Farro is a nutty grain with ancient roots. It has been popular in the Mediterranean for thousands of years. It has a chewier texture than some other grains and can be used in a variety of dishes. At a dinner for Chobani last year they served a faro risotto with apples that was so good I have been thinking about it ever since.
The piece de resistance is the baked tomatoes. I know they are a bit retro but  taste so good. You are missing out if you have not tried one recently.
This dish features a homemade basil pesto made without pine nuts, though feel free to use a pesto that does. Serve the baked tomato on top of the Farro risotto topped with basil and goat cheese. The dish turns into this creamy and filling meal.
You need to soak the faro before cooking with it. I only soaked for a few minutes but some say to soak for 30 minutes. You could do this ahead and set aside until ready to use.
If you like farro and want to try more recipes, here are a few others I found:
Butternut Squash Salad with Farro and Pepitas by Smitten Kitchen
Farro with Pistachio and Fresh Herbs by Eating Well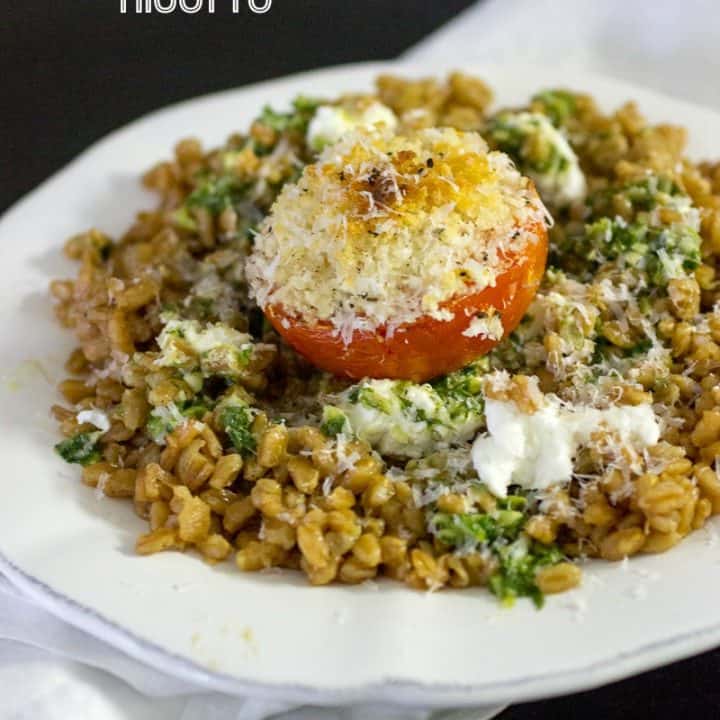 Caprese Farro Risotto
Ingredients
1 cup farro, thoroughly rinsed
1 shallot finely minced
1 garlic clove, finely minced
1/3 cup white wine
3 cups chicken stock, warmed
1/2 teaspoon salt
1/4 teaspoon freshly ground pepper
1/4 cup parmesan cheese
Homemade Pesto or Store Bought
Baked Stuffed Tomatoes, see below
Instructions
Soak the farro for 10 minutes and drain.
Heat the broth in a small saucepan and keep warm over low heat.
In a large saucepan or Dutch oven, heat the oil and butter over medium heat. Add the shallots and season with 1/4 teaspoon salt and 1/4 teaspoon pepper. Cook until softened, about 2 minutes. Add the drained farro and cook, stirring constantly until toasted, about 3 minutes. Add the wine and stir constantly until evaporated, about 2 minutes. Add 1/2 cup of the hot broth and stir constantly until completely absorbed. Continue adding the remaining broth, 1/2 cup at a time, until the farro is creamy and cooked through, about 30 minutes. Turn off the heat and stir in the parmesan cheese and the remaining salt and pepper. Transfer to a bowl and swirl the pesto in and top with tomato. Sprinkle additional goat cheese over top, if desired.
Nutrition Information:
Yield:

4
Serving Size:

1 grams
Amount Per Serving:
Unsaturated Fat:

0g