I have a sweet and a spicy set of wings to offer you. Chicken wings and the Superbowl, the perfect pairing. Did you buy your wings yet – rumor is there is a shortage. Really? I had no problems. I got this great combo of wings and drumsticks for $4. If you do want them, you might want to run out and buy them before they disappear. Just in case…
I always love the classic Buffalo Chicken Wing but it's fun to try new recipes. Today I have two baked wing recipes – Hoisin Pomegranate Wings and Honey Sriracha Wings. Being baked and not fried means lower calories but not less taste.
There was this funny segment this week about wings on Live with Kelly and Michael. He was singing the praises of chicken wings. Kelly was not buying it, she would rather eat a bug than chicken wings. I think she has issues with food. She was visibly repulsed at the thought of eating a chicken wing. He was determined to get her to eat wings!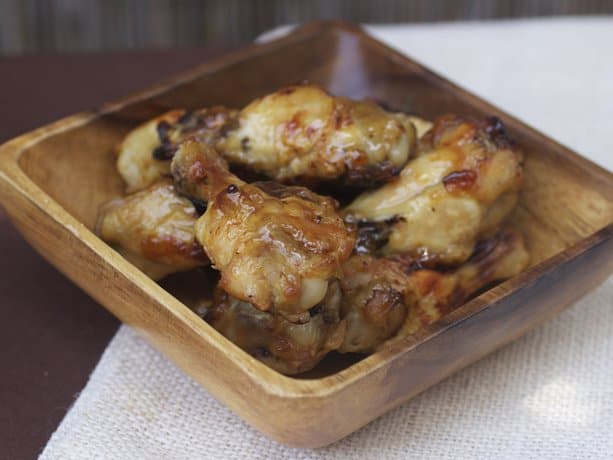 I don't eat them very often, maybe 3 times in the last 10 years but boy they are good. They were all the rage in my college years when TGIFriday's was all the rage. That dates me a bit! Last year, for my Tailgate Party article, I made Apple Bourbon Wings and was wooed back to wings.
The Hoisin Pomegranate Wings are sweet with a bit of spice. They are a good balance to the very spicy Honey Sriracha wings. I found the recipe for the Honey Sriracha Wings over at Slender Kitchen. To make both you just put them on a baking sheet, lined with parchment. Brush a little melted butter over the tops and sprinkle with salt and pepper. Bake 15 minutes, remove from oven and sprinkle with finely minced garlic. Bake 5 to 10 minutes, or until the skin is starting to brown and crisp.
While the wings are baking you can whip up both sauce. For the Hoisin Pomegranate Wings mix hoisin sauce, pomegranate molasses, ginger, rice wine vinegar, soy sauce and a little bit of Sriracha sauce. Heat for 1 minute in the microwave.
For the Honey Sriracha Sauce melt 1 tablespoon butter, Sriracha sauce, honey, lime and soy sauce.
When the wings are done, divide in half and coat one half with the hoisin glaze and the other with the honey sriracha sauce. Reserve a little of each for dipping.
What else are you serving for Super Bowl Sunday? Take pictures of your Super Bowl spread and share them over at our Facebook page.
Baked Honey Sriracha Wings
Yummy baked chicken wings with sriracha and honey for that sweet and spicy flavor.
Ingredients
2 lbs chicken wings
2 tbsp butter
2 clove garlic, minced
1/4 cup Sriracha
1/4 cup Honey
1 tbsp lime juice
1 tbsp soy sauce
Instructions
Preheat the oven to 425 degrees.
Lay out the chicken wings on a baking sheet covered in parchment and completely cover with cooking spray. Brush with one teaspoon butter. Sprinkle with salt and pepper.
Bake for 25 minutes or until the wings are nice and crispy. At this point you could eat them just like this or add any type of seasoning.
While the wings are cooking, add the butter to a small sauce pan until melted. Add the garlic and cook for about 2 minutes until fragrant.
Add the Sriarcha, honey, soy sauce, and lime juice and bring to a simmer. Remove from heat and set aside.
Once the wings are finished, gently remove them from the pan and toss with the sauce.
Nutrition Information:
Yield:

6
Serving Size:

1 grams
Amount Per Serving:
Unsaturated Fat:

0g