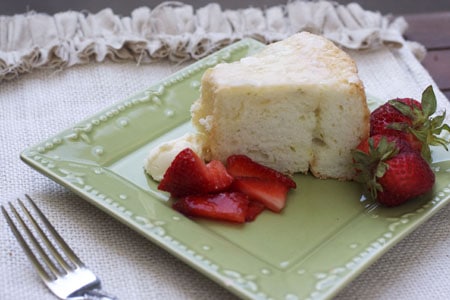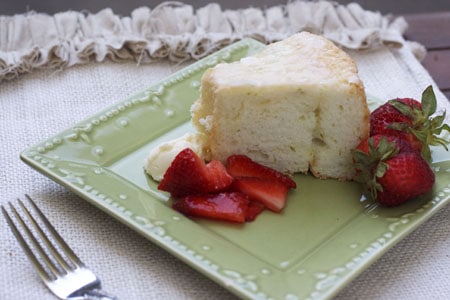 I don't know why it took me so long to share this cake with you. If you visit here regularly you know how much I love all things lime so when I came across this recipe for lime angel cake by those guys at Baked, I had to try it.  The name angel food cake came about because of its airy lightness that was said to be the "food of the angels."
As a little girl we would have angel food cake, especially in the summer, at family gatherings. These days cooking desserts and having them sit around the house isn't always great for the diet so I resisted the urge until I was in charge of bring a dessert to my weekly small group.
Angel food cake is low in fat and is perfect when paired with fresh berries and a bit of whipped cream.  I mixed fresh strawberries with a little lime juice and sugar and let them macerate for a few hours.  Seeing a tub of mascarpone cheese in the fridge I decided to whip that with a bit of powdered sugar and the zest of a lime.
Make sure and mix this in a big bowl.
If I was bringing dessert Sunday this is what I would bring for Easter. Last year I made these but love Katie's adorable take on them.  I love these Rice Krispy eggs by Bouchon Bakery. These Simple Easter Cupcake by Picky Palate are also super cute and would look pretty on the table.
As for my small group, here is what the plate looked like at the end.
Lime Angel Food Cake with Strawberries and Lime Mascrapone Cheese
Yield: 8 servings    Prep time: 20 minutes Cook time: 40 minutes
Ingredients
1 cup

cake flour

1 1/2 cups

superfine sugar

1/4 teaspoon

salt

10 large egg whites

, room temperature

2 teaspoons

grated lime zest

1 teaspoon

vanilla extract

1 teaspoon

cream of tartar
Cooking Directions
Position rack in center of oven and preheat to 350°F. Sift flour, 1/2 cup superfine sugar, and salt into medium bowl. Using electric mixer or a standing mixer, beat egg whites, lime peel, and vanilla on medium speed in large bowl until frothy (mixture may turn neon green but color will change when remaining ingredients are added). Add cream of tartar; increase speed to high and beat until soft peaks form.
Gradually add remaining 1 cup sugar, 2 tablespoons at a time, beating until stiff peaks form. Sprinkle 1/3 of flour mixture over whites and gently fold in until incorporated. Fold in remaining flour mixture in 2 more additions just until incorporated. Transfer to ungreased 10-inch angel food cake pan with 4-inch-high sides and removable bottom (do not use nonstick pan); smooth top.
Bake cake until pale golden and tester inserted near center comes out clean, about 38 minutes. Immediately invert cake and cool cake completely.
Using a long thin knife, cut around cake sides and center tube to loosen. Lift out center tube with cake still attached; run knife between cake and bottom of pan to loosen. Invert cake onto rack, then turn cake over, rounded side up. Set rack with cake atop rimmed baking sheet.
Lime Glaze
Ingredients
1/2 cup

sugar

4 tablespoons

lime juice, divided

1/2 cup

powdered sugar
Cooking Directions
Combine sugar and 3 tablespoons lime juice in small saucepan; stir over medium heat until sugar dissolves. Brush syrup all over top and sides of cake. Immediately press pistachios onto top and sides of cake, pressing to adhere.
Stir powdered sugar with remaining 1 tablespoon lime juice in small bowl until smooth. Drizzle glaze over top of cake. Let stand until glaze sets, about 10 minutes.